Ussy Sulistiawaty Pratama aka Ussy Pratama is an acclaimed Indonesian Entertainer with over 15 million followers on Instagram and over two million subscribers on her YouTube channel, which is titled "In bed with Ussy".
Ussy has composed her own master fragrance:
IN BED WITH USSY PRATAMA.
It is a woody, spicy oriental Eau de Parfum that opens with Sumatra Lampong pepper and Kerinci cinnamon. The heart note enchants with full-bodied Bulgarian roses, French violets and South African geranium. The dry-down with Javanese agarwood forest and Balinese amber spices has a long lasting effect.
She teamed up with award-winning beauty brand developers from Paris, Berlin and Madrid. To create the answer to the most exclusive niche fragrances from around the world, that specifically represents Indonesians.
Anniversary PROMO Buy 2 get 1 extra for FREE + Legging + BONUS
Get your complimentary gift with every Order:
our exclusive 10ml Travel Size Eau de Parfum intense                   
Available now! The In bed with Ussy Pratama Travelsize, perfect for on-the-go!
Purchase the 10 ml travelsize and receive a coupon with the same amount valid for the 100 ml perfume. 
GET ONE OF THE LAST GIFT BOX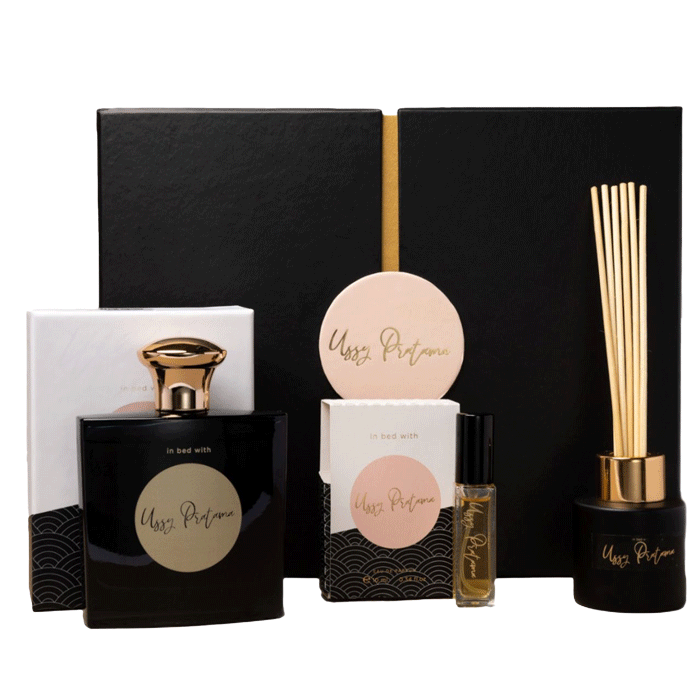 »I myself wear only a few drops
»I myself wear only a few drops of the perfume to bed.«
Salah satu yang ditunggu tahun ini persembahan terbaru dari istri saya tercinta ussy sulistiawaty sebuah parfum unisex yang pas di pake buat cowo maupun cewe dan wangi nya PERFECT dijamin akan bikin pasangan kita semakin lengket karena wanginya yang begitu menggoda.
Andhika Pratama
Influencer
I truly love this perfume from my heart as much as I love the beauty of Indonesia. The composition combines in a very sensual way the most luxurious bulgarian rose essences with finest and truly unique Javanese agarwood-oud and Balinese amber notes.
Frank Hoffmann
Fragrance Expert
Aromanya bikin saya ketagihan wanginya mahal banget, sama sekali ga nyangka mbak ussy seleranya luar biasa. Nagih wanginya!!!!
Winda Bounavich
Beauty Expert
This perfume is an amazing epiphany, so structured and yet dense. A staccato of tropical flowers, nordic mosses and oriental ambregis. Ussy – you managed to create a true masterpiece, that every modern woman in Indonesia must have – I correct myself .. that every modern woman or man – from around the world – will fall in love with!
Mega Niché Fragrance! A Perfume is like your Identity! The eyes you can close your Nose can't be. With an awesome Perfume like this one from USSY PRATAMA you are always welcome and get good vibes and people love you.
Jeremy Fragrance
♥
Ussy Pratama